WORK BENEFITS
It is said that people succeed most when they do what they love.
To ensure success, we are looking for the right type of person when agreeing to sell a franchise territory. No deck building experience is required.
We are looking for franchise owners who are:
Great income potential
Enjoy a healthy outdoor work environment
Work from home
Freedom
Seasonal business means long winter breaks
Spend more time with your family
Ability to own multiple territories
Support from Canada's largest and most reputable deck builder
MARKETING
The secret to selling decks is understanding how the customer wants to buy and then making it easy for them to do so. Our proven marketing system does just that.
We've been selling decks since 1987 and we know what works. We've guided our marketing through experience and through the advance of the digital age.
The proof? We've grown from a local deck company to Canada's largest deck builder with over 65 franchise locations, as of 2019.
The Hickory Dickory Decks marketing tools include:
High performing, world-class website at decks.ca
Digital Marketing Programs
Brochures
Sales Folders
Uniforms
Truck/Trailer Graphics
Home Show Materials
Radio Campaigns
Yard Signs
Presentation Folders
Door Hangers
Mascot
Download* our
FRANCHISE OPPORTUNITIES

booklet for more information on owning a Hickory Dickory Decks franchise.
*A copy of the Franchise Opportunities booklet will be emailed to you.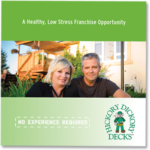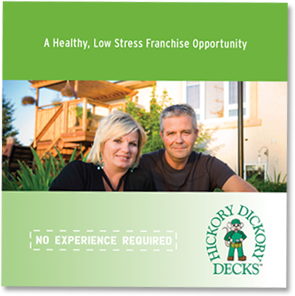 LEADERSHIP TEAM
We believe that leadership is an action, not a position. We are committed to supporting each of our franchisees to ensure their ultimate success.
Hickory Dickory Decks offers the opportunity to own your own deck building business backed by the support of a nationally respected brand. Our leadership team goes above and beyond to provide guidance and coaching to help each of our franchisees be successful. We continue to employ quality leaders backed by the most effective marketing strategies and business systems to ensure a successful future for our franchisees. We take pride in seeing our franchisees reach their personal and financial goals.
Being part of the Hickory Dickory Decks team means you have the support of our all-star head office team as well as other franchisees.
Our key franchise development personnel are: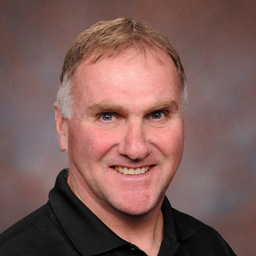 Tom Jacques
Geoff Aucoin
Greg Potticary
TRAINING & SUPPORT
We're here to help you succeed.
Every Hickory Dickory Decks franchisee is provided with initial training on our sales system and coaching from our top sales staff. Our initial training program is one week for sales training for the owner and three weeks training for the builder, held at our head office in Hamilton, Ontario.
Once you are in operation you will be supported through our vast training resources and day-to-day contact with your franchise manager. These managers have experience in all of the fields of running a successful deck business and are readily available for questions and support.
How does a franchise manager support the franchise owner?
Designing, pricing, and assisting in selling your first decks
Ongoing assistance with:

Deck designs
Material orders
Marketing budgets
Yearly business plans
Deck inspections
Permits
Setting up home shows
Interviewing new staff
Advice and guidance, in order to allow you to lead a successful deck business
Hickory Dickory Decks also hosts a three day pre-season training convention each year.
On-going training is also available for existing franchises through weekly half-day training workshops led by Tom Jacques and one or two franchise managers at our head office. The option to log into training workshops from home is also available.
You can rely on our head office for whatever support you need. Our entire team is there to support each member.
Download* our
FRANCHISE OPPORTUNITIES

booklet for more information on owning a Hickory Dickory Decks franchise.
*A copy of the Franchise Opportunities booklet will be emailed to you.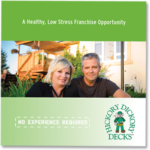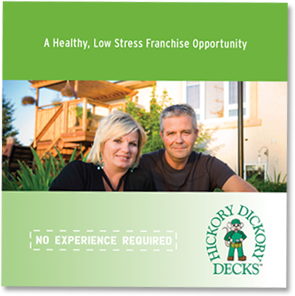 Let's Talk.
To inquire about a Hickory Dickory Decks franchise opportunity, please submit our form and we'll be in touch with you shortly.