SUCCESS FORMULA
We're ready to succeed together, one deck at a time.
Our success formula is simple — and it all starts with teamwork. After all, your success is ours too.
Our proven formula includes three main components:
Head Office Support
All franchisees receive hands-on support from our head office team. Our expert support team has all the skills needed to assist you when necessary, including sales, building, product knowledge, marketing, accounting, training, hiring, and business procedures.
Research and Development
Our experienced management team, franchisees, and deck builders are constantly learning new techniques and best business practices which are shared throughout our franchise network. In addition, our excellent reputation and industry position allows us access to new decking products before they are available at retail locations.
Exit Strategies
A growing franchise network can rapidly build equity for a franchisee in their territory. We have experienced rapid appreciation of the value of franchise territories in some areas and assisted franchisees who wish to take advantage of the one-time capital gains exemption for selling a small business up to $750,000.00 tax free in Canada.
For more information on owning a Hickory Dickory Decks franchise, please download our "Franchise Opportunities" document.
SALES PHILOSOPHY
It's easy to sell the best.
Hickory Dickory Deck franchisees act as consultants to prospective clients. Our low-pressure sales approach is backed by having the best to offer by way of design, product, warranty, customer service, completion date and price.
Through over 30 years of deck-building and franchise experience we have built a proven, professional sales system that is easy-to-replicate for a new franchise.
Our leading sales system is fully outlined through professional training manuals and videos. As a franchise owner, you'll participate in a sales course, ongoing training, and be connected with a full-time franchise manager to assist you with sales throughout the year.
For more information on owning a Hickory Dickory Decks franchise, please download our "Franchise Opportunities" document.
FRANCHISEE TESTIMONIALS
Happy customers. Happy franchisees. That's our business.
Many Hickory Dickory Decks franchisees have already discovered the benefits of investing in a deck franchise. Together, we are the leading deck building business across Canada and have brought life-changing success and personal victories through our proven business model.
We invite you to listen to testimonials from our franchisees. This could be you!
TRAINING & SUPPORT
We're here to help you succeed.
Every Hickory Dickory Decks franchisee is provided with initial training on our sales system and coaching from our top sales staff. Our initial training program is one week for sales training for the owner and three weeks training for the builder, held at our head office in Hamilton, Ontario.
Once you are in operation you will be supported through our vast training resources and day-to-day contact with your franchise manager. These managers have experience in all of the fields of running a successful deck business and are readily available for questions and support.
How does a franchise manager support the franchise owner?
Designing, pricing, and assisting in selling your first decks
Ongoing assistance with:

Deck designs
Material orders
Marketing budgets
Yearly business plans
Deck inspections
Permits
Setting up home shows
Interviewing new staff
Advice and guidance, in order to allow you to lead a successful deck business
Hickory Dickory Decks also hosts a three day pre-season training convention each year.
On-going training is also available for existing franchises through weekly half-day training workshops led by Tom Jacques and one or two franchise managers at our head office. The option to log into training workshops from home is also available.
You can rely on our head office for whatever support you need. Our entire team is there to support each member.
Download* our
FRANCHISE OPPORTUNITIES

booklet for more information on owning a Hickory Dickory Decks franchise.
*A copy of the Franchise Opportunities booklet will be emailed to you.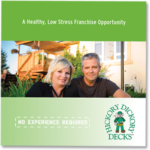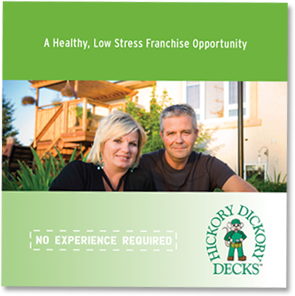 Let's Talk.
To inquire about a Hickory Dickory Decks franchise opportunity, please submit our form and we'll be in touch with you shortly.