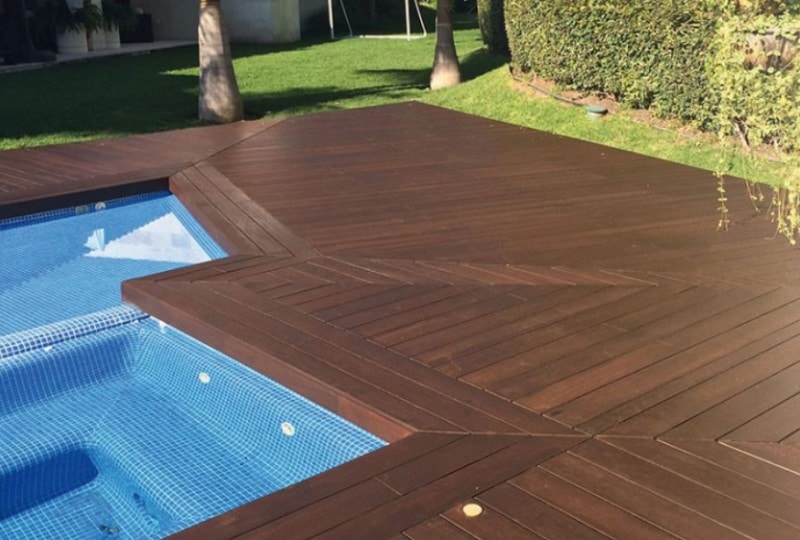 Decking Made from Giant Grass? (Katana Decking)
Bamboo has become a mainstay in interior design.  Furniture and floors are being made from Bamboo.  It is durable, low maintenance, and comes from a sustainable wood source. Now, with Katana Decking, the beauty of bamboo can be enjoyed in your outdoor spaces as well.
Benefits of Bamboo Decking
Katana Decking requires no dyeing, painting or sanding. It will stand up to extreme weather conditions and comes with a 25-year warranty. Katana deck boards are composed of thermally treated and compressed bamboo fibers, making these deck boards incredibly strong. Unlike other wood options, Katana's bamboo decking has a tongue and groove features that eliminate most hardware, giving that clean, seamless look to your new deck.
Why does bamboo decking make sense? Bamboo decking is an ecological and durable alternative to tropical hardwoods. Katana has developed a patented treatment call Thermo-Density, making this decking choice one that is fire resistant and great for high traffic areas such as around pools.
The giant bamboo species, Moso, is one of the fastest growing plants in the world. It reaches its full height of 20 metres in just a few months. It can grow up to a metre a day. Talk about growing like a weed. It then takes 4-5 years for the stalks to fully mature and reach their full strength. Bamboo is a very renewable wood source for this reason.
Once the bamboo stalk is harvested from the plant, it does not die but regrows a new stalk. This is an incredible feature that eliminates deforestation. Bamboo provides an abundant and sustainable alternative to traditional hardwoods. A cedar tree, for example, can take more than 50 years to fully mature and reach its full hardness and density. Cedar and tropical hardwoods are increasingly sparse and therefore often more expensive. Bamboo continues to revolutionize the wood industry with its sustainability.
In fact, bamboo doesn't even compete with other species of wood. Bamboo isn't a tree at all. It's giant grass.
This isn't all that bamboo has going for it. Aside from being one of the world's fastest-growing, renewable resources, bamboo absorbs large quantities of CO2. Making the air we breathe just a little bit better.
Bamboo decking is very durable and will be enjoyed for many years. There will come a time, however, when it will need to be replaced. Bamboo is easily recycled and can be made into chipboard or burnt to create green electricity.
If you love the look of real wood on your deck but want to enjoy many years on your deck without splintering, warping, rotting or splinters, bamboo may be right for you. With its low maintenance needs, along with a warranty, Katana bamboo decking is changing the way the industry looks at wood decking.