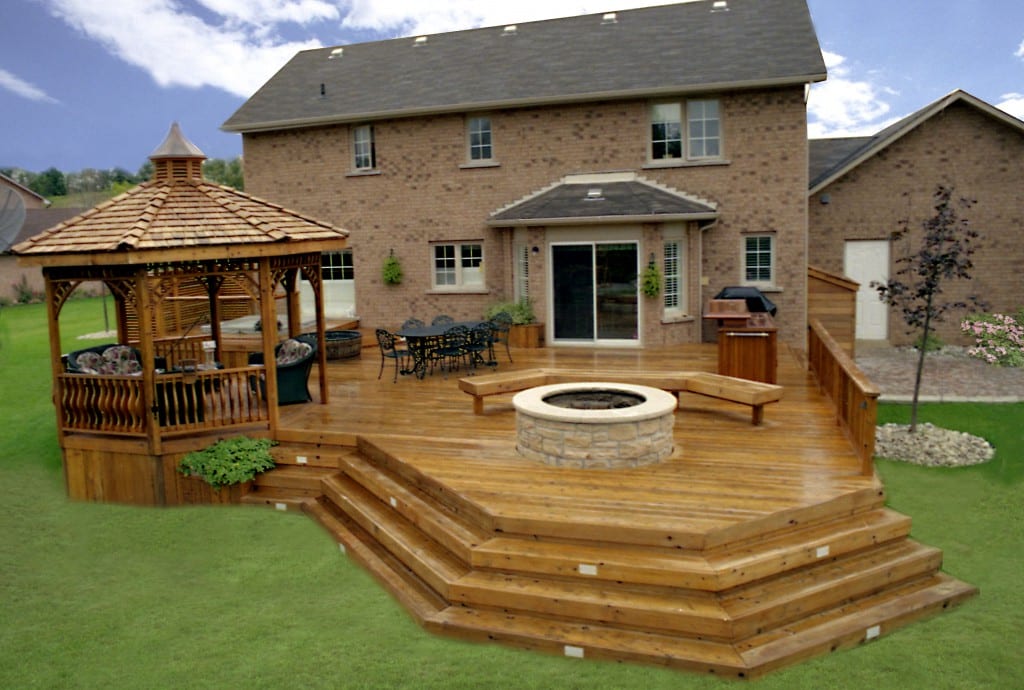 Need Spring Inspiration? Plan Your Deck Project
Feeling the winter blues? Wondering when you'll ever be able to enjoy that backyard again? If the heat and sunshine of the spring can't come fast enough, bide your time by making plans for a new deck.
Deciding to enhance your property with a new deck is a big investment so it's worth the time and energy the winter months can provide. This planning isn't only necessary but can be fun.
Research
Doing research sounds like work but it doesn't have to be. Start by looking at decks. Lots of decks. But don't get caught trespassing in your neighbourhood. Take to websites such as Houzz, Pinterest, and decks.ca for your spring inspiration.  You will likely only commission the building of a deck once, perhaps twice in a lifetime. It's not likely that any of us knows the possibilities. Take a good hard look at all that can be done with your outdoor space. Through the evolution of design and the great expanse of products available, so many choices will need to be made. Take the time to educate yourself with the possibilities.
Know your needs
Now that your mind has been filled with images of what your future deck might look like, It's time to consider your needs. Regardless of what you may want in a deck, make a list of your needs. Consider things like, how big are the groups of people who will enjoy your new deck. You may be surprised by just how much square footage you actually need to have a useable space. Will your family be dining on the deck? Will you be cooking or entertaining on your new deck? What kind of furniture will you be placing on the deck? All good questions that will need an answer before the final design of your deck is established?
What are your limitations?
Along with knowing your needs comes knowing your limitations. Inspiration is only a great tool when it's paired with limitations.  You may dream about a multi-level, 500 square foot deck but have a home that sits on the 22-foot lot. You might put a call into your local building department and ask a few questions in regards to setbacks and permit processes. Height restrictions, stair rises, and rail heights will be determined by city building codes and regardless of preferences, these limitations will be a determining factor in the final design of your new deck.
Budget
Set your budget and save, save, save. If you haven't built a deck in a while, your likely aren't sure of the cost. Like any investment in your home, you will want to set a budget and begin the process of deciding how this project will be financed. Though you may not have the cash on hand now, the colder months that lay ahead might give you the opportunity to put some money away for this new deck of yours.
Timeline
Most everyone wants their new deck built in time for the warmer months. You may, however, have plans to be at the cottage or on vacation for the month of July. This may very well be an excellent time for your build. Going away on vacation and coming home to a new deck might be your best case scenario. No fuss, no muss. Of course, if you're the kind of person who likes to keep an eye on things, a spring build might suit you better. Having all your ducks in order will ensure you get onto your new deck sooner than later.
Ask the Pros
Consult with the a deck building professional. When you are already to start gathering quotes, consult with more than one professionals. Not only to get more than one quote, but more than on opinion. Many ideas and much inspiration can be unearthed when considering the nuts and bolts of building a deck. Take great advantage of their experience and their knowledge and their wisdom. There is no reason to go it alone when planning your new deck.
Getting a new deck is a big deal. Winter is a great time to get spring inspiration. Be sure to give your project the time, energy and money it deserves. Your new deck will be greatly enjoyed when you take an interest in all aspects of your spring build.