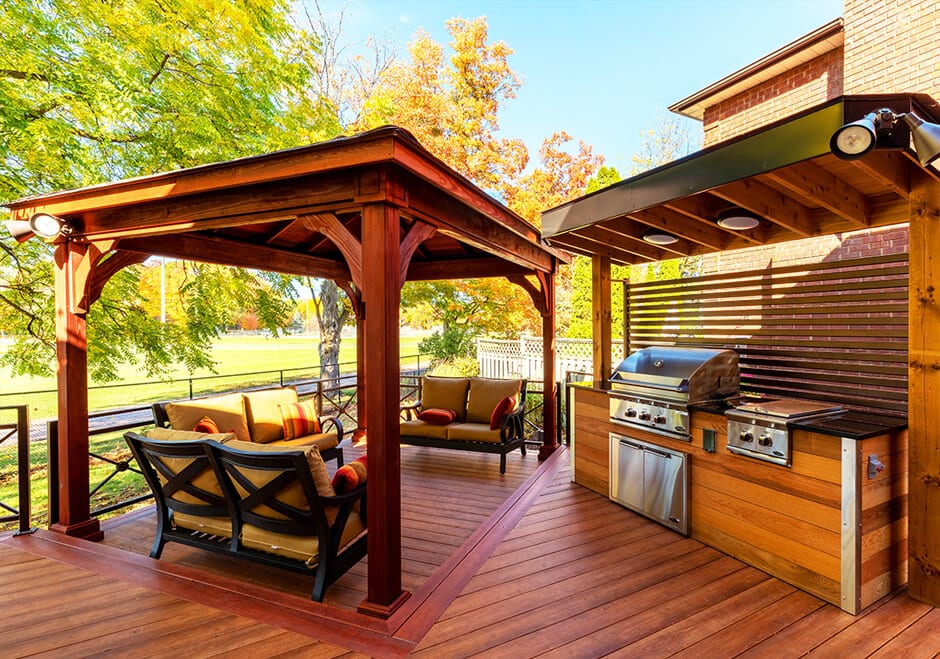 Pricing for Deck Add-Ons
Once you have the basic design of your deck figured out, there are a variety of add-ons you may consider to enhance the enjoyment of your outdoor space. While these can add to the final price of your deck, it is usually more affordable to include them with the building of your deck rather than adding them at a later date.
Some add-ons add very little to the final price, while others can be quite expensive.
The following are some typical add-on features that our customers request:
Deck Lighting
If you intend to enjoy your deck in the evening, consider including some lighting in your quote. There are a variety of styles to choose from, including recessed lighting that can fit snugly into the floor of the deck, lights that sit under the railings, and post lighting.
Each style can add to the ambiance of your outdoor space in its own way, and all styles can help extend those summer get-togethers into the later hours. Deck lighting also provides enhanced safety while on your deck.
Planter Boxes
While a deck will reduce your yard space, that doesn't mean you still can't enjoy some of your favourite flowers and vegetables. Planter boxes on your deck allow you to enjoy a pop of colour and some low-maintenance gardening.
Privacy Walls
If your neighbours are close by, you might consider adding some form of privacy screen to your deck. This could be a rolling screen that fits inside a frame or a lattice wall on which you can grow your favourite climbing plant.
Shade Options
If you have very sunny spots on your deck, adding some shade options can help you to get more enjoyment from your space. Pergolas, awnings, and other shade features are ideal for blocking out some of the hot summer sun.
Outdoor Kitchens
In terms of cost, outdoor kitchens tend to be the most extravagant of deck add-ons; however, if you have the space and budget for it and love to entertain, then it could be well worth the extra cost. Some features to consider in an outdoor kitchen are additional food prep and storage space, a pizza oven, bar and bar seating, and outdoor sinks.
The pricing for these and other deck add-ons will vary depending on exactly what the customer is looking for; however, if you are interested in any add-ons for your deck, we will be happy to provide you with an estimate.