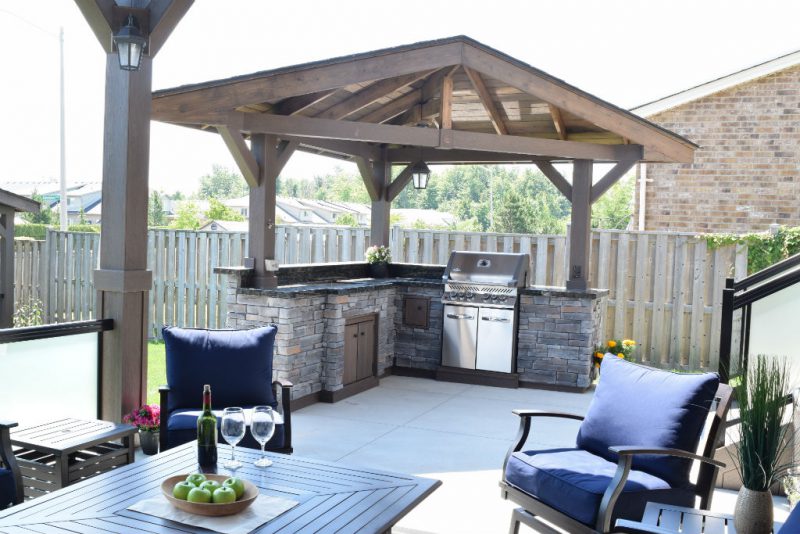 The Grillzebo. It's a thing… Trust us
Yes, it's a thing. Hickory Dickory Decks wants nothing more than to show you just how cool and functional a grillzebo can be. If you haven't already guessed, a grillzebo is the perfect combination of outdoor kitchen and shade structure.
Standard gazebos come in several different sizes. 6,8,10,12′, etc. Any size gazebo can be designed with an outdoor kitchen in mind. If you already have a great gazebo, consider yourself halfway there. Most gazebos, or indeed, any shade structure can be modified to include a cooking surface. A grilling area with a roof will have you barbequing all year round. Your grillzebo may be a permanent structure with a simple canopy. Whatever your style is, your preference and your budget will allow you to introduce this new addition to your outdoor space as the grillzebo. Trust us, your friends and family will be properly impressed.
Grilling can be a lonely job. With a grillzebo, you can entertain and cook up those famous ribs without missing anything. You might choose a grillzebo design that doubles your existing seating or choose a design that is big enough for a barbeque and a few guests but one that can fit on your existing deck. The grillzebo keeps you in the middle of the action. Now that you've decided on a size and design have a little fun choosing the accessories. Sometimes, all an existing gazebo needs to become a truly great grillzebo is the right accessories. Consider lighting. In this case, it's not just for ambience. The right lighting will ensure safety while you grill. With your guests in such close proximity to your cooking surface, finding the right lighting is more important than ever. Some accessories add functionality to your grillzebo but also create design interest. Get creative with a wine glass rack or display shelves. Consider using low-maintenance materials so that these accessories will withstand the harsh elements of the outdoors. Gone are the days of sitting on the red cooler when seating is scarce.
Consider incorporating built-in coolers that double as seating. Killing two birds with one stone is always a bonus when dealing with small spaces. If you're going to be grilling outside, won't it be nice to have all the foodstuffs at your fingertips? The same can be said for cooking utensils. When everything else that you need is outside, having to run inside for a fork isn't cool. Keep a great set of grilling implements on display to cement your gourmet status among all your guests. The outdoor kitchen is no longer just for the rich. With the creation of the grillzebo, everyone can enjoy the luxury. Besides, don't we all congregate in the kitchen during a great party. Why not take it outside?
If you're interested in getting a grillzebo of your own, or just looking for someone to build a dream deck of your own, look no further than Canada's largest deck building company Hickory Dickory Decks! Check for a Location Near You!