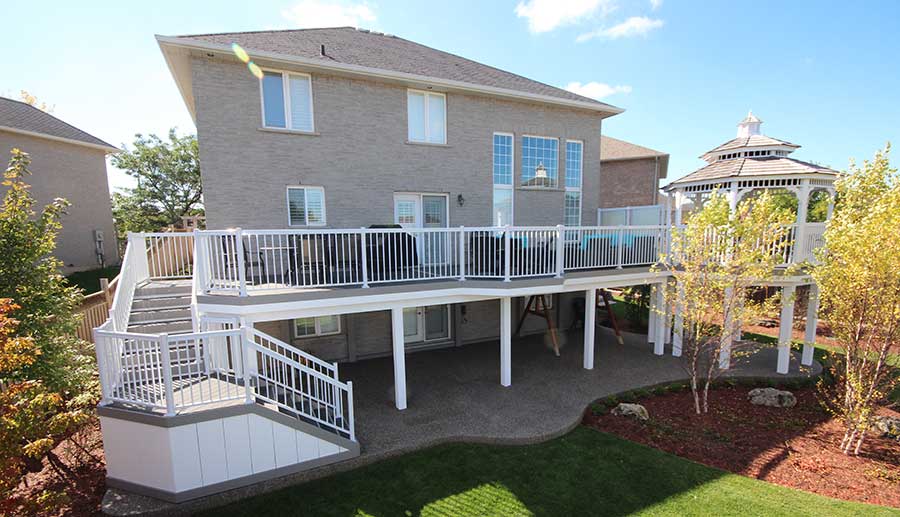 What will my deck cost?
If you are in need of a new deck, your budget will certainly be a big factor when it comes time to make decisions on what that deck might look like. Many of us will only have a deck built once or twice in a lifetime. For this reason, alone, it is difficult to get a handle on price. The market is ever changing and choices in deck products are constantly increasing. Getting some idea of the cost will put your mind at ease and bring you one step closer to that fabulous new deck.
What are some of the factors about your new deck that might bring the price up? Well, size is the first thing. Obviously, the bigger the deck, the bigger the price tag. This doesn't mean you need to scale back your project. Ask the professionals. They can help you determine how much space you will need according to the usage of your deck. For instance, if the average group of people enjoying your deck at one time is two, you won't likely need more than a couple of hundred square feet. If however, you plan to have a hot tub on your deck, space might need to be expanded upon. Also, keep in mind that many deck boards come in standard lengths. Keeping the length or width of your future deck to 12′, 16′ or 20′ will reduce waste and therefore bring down the cost of your deck even though the square footage is the same as another design might be.
If your deck is a high deck, it will cost you more. High decks take longer to build, the substructure is more extensive and labour costs go up on a high deck. Anyone working on your high deck will need to be tied down. Lots of time is spent on a ladder and danger increases when building a high deck. All these things will bring the price up on your deck budget. Consider anything above 6 feet, a high deck, and budget accordingly. A low deck will bring a heavier price tag as well. but for different reasons. If the deck you plan to build is below 16″, trenching may need to happen. Digging out enough soil to fit the substructure of your new deck is must but again takes time.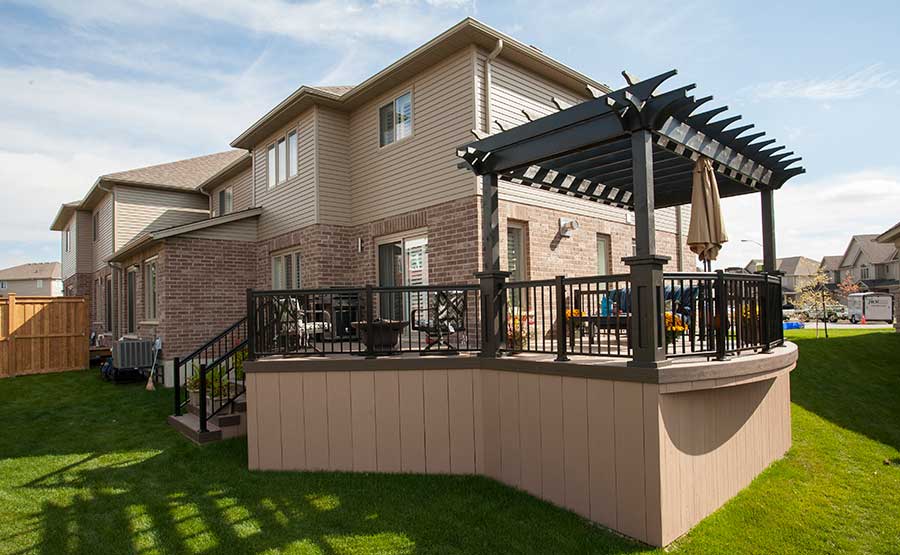 Your choice of decking material will affect the bottom line. Many wood products have lower price points than low maintenance products. Keep in mind, when choosing wood versus low-maintenance, there is no warranty on wood, whereas most low maintenance products carry 20 and 25-year warranties. Whether you choose aluminum or wood rails and if your deck will have skirting are all things you need to be considered when planning and budgeting for your new deck.
Knowing what your deck will look like will go a long way in determining what your deck will cost. If it's out of your budget, you have options. Change the design or save for a deck next year. Speaking with the professionals at Hickory Dickory Decks, will bring you a lot closer to knowing the price and get you that much closer to your dream deck.