Top Pet-Friendly Decking Products
We love our outdoor space, but we love our pets more. Choosing pet-friendly decking materials is essential if you have dogs or other pets that will be using your outdoor space. Pets can also be tough on decking, so you'll want to select materials that are durable, easy to clean, and safe for your furry friends. Here's our list of the top pet-friendly decking materials.
1. VC Vinyl Decking
Vinyl decking is at the top of our list when it comes to pet-friendly decking. It's resistant to stains, scratches, and moisture, making it a durable choice. PVC decking doesn't splinter and is easy to clean with just soap and water. Vinyl can be cooler for the paws as well.
2. Composite Decking
Composite decking is a popular choice for pet owners because it's also durable and resistant to scratches, stains, and moisture. It doesn't splinter, so your pets' paws are safe. Additionally, it's relatively low-maintenance and easy to clean, making it an excellent choice for pet-friendly decks.
3. Bamboo Decking
Bamboo decking is an eco-friendly option that's also pet-friendly. It's a renewable grass product that is also durable and doesn't splinter, making it safe for pets. However, it may require regular sealing to maintain its appearance and longevity. It is more susceptible to scratching.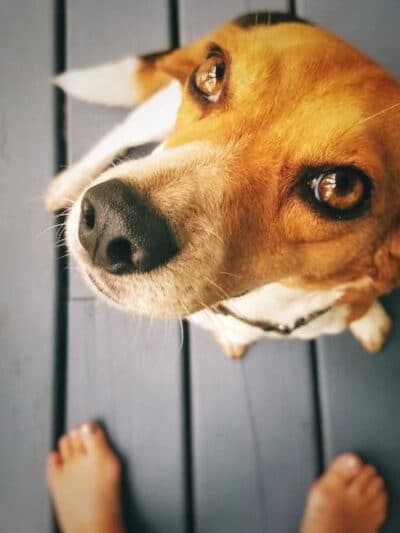 4. Cedar Decking
Cedar is naturally resistant to insects and decay. It's also less likely to splinter than some other wood species, which makes it safer for pets. However, like pressure-treated wood, cedar decks require regular maintenance to prolong their lifespan.
5. Pressure-Treated Wood
Pressure-treated wood, especially the new copper-infused varieties, can be a good option for pet owners on a budget. It's resistant to pests and can withstand wear and tear from pets. Regular maintenance, such as sealing and staining, is necessary to keep it in good condition. The longevity of this decking product is limited, however.
When selecting a pet-friendly decking material, consider not only the durability and safety of your pets but also the aesthetics, maintenance requirements, and budget. Regular cleaning and maintenance are key to ensuring your deck remains a safe and enjoyable space for both you and your furry friends. Additionally, remember that providing shade and a water source on your deck can help keep your pets comfortable on those hot days.